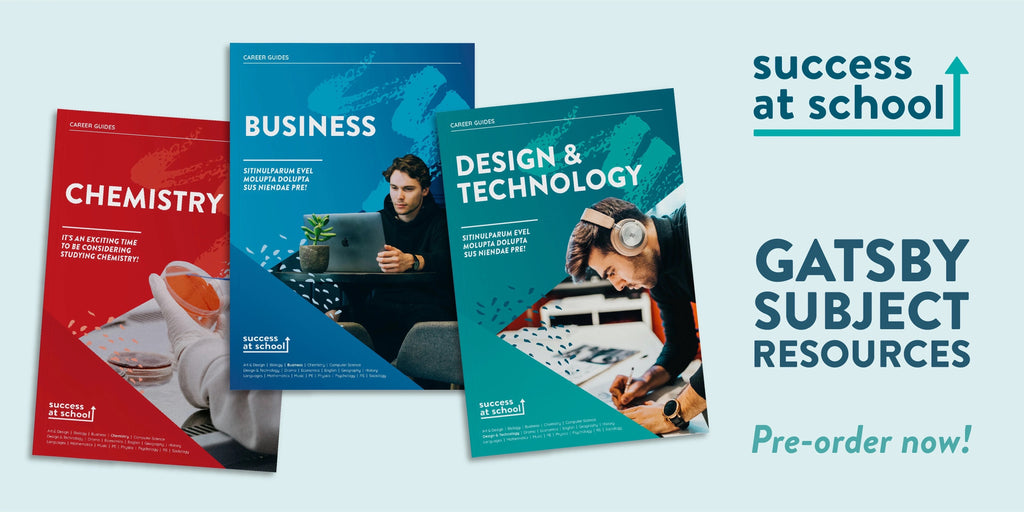 Gatsby Benchmark 4 Subject Guides - 4th Edition
This brand new edition is designed to help your subject departments save time to deliver Gatsby Benchmark 4 and meet your Ofsted requirements.
What's new in our 4th edition?
New content including: Top 5 jobs to inspire subject students, how subjects relate to current world affairs, and an expanded apprenticeship section.
Over 60 case studies from top organisations providing insights into transferable skills your students will learn in the classroom, and how they can apply them to their future workplace.
A brand new design for all 19 subjects.
Each guide contains subject-specific advice, including:
Key 

skills and knowledge

 gained and how they transfer to the workplace.

Careers linked to subjects and the different paths students can take.
Case studies

 and exclusive 

interviews.

Tables listing real-life subject-specific 

apprenticeship

 programmes.

University tables using our own career-focused rankings.
Detailed gap year and work experience guidance.
Digital subscriptions are for 1 year only.
Who is this for?
Heads of Department and Subject Teachers, who want a ready made resource to enable them to deliver careers and employability in the curriculum.
They help staff challenge stereotypical thinking and raise aspirations by looking at how skills and knowledge developed in the subject prepare students for a variety of career pathways.
The lesson plans are created by subject teachers to be delivered directly in the classroom, saving staff resources. This saves valuable money and time for schools and colleges.
Careers Leaders and Careers Advisors who are looking to embed the Gatsby Benchmarks within their institute.
Here's the feedback we've had on our booklets so far:
"I saw some of the resources at another of my schools earlier in the week and I was very impressed – the school said it has really galvanised some departments in particular to really consider how they are embedding careers into their curriculum so thanks for that!" - Linc Higher NCOP
These are very valuable and I have shared them with many schools (I'm a Careers and Enterprise Company Coordinator). They have been received really well and give subject teachers a brilliant starting point. - Bucks Skills Hub
Subjects include (click to view last year's sample):
Art & Design, Biology, Business, Chemistry, Computer Science, Design & Technology, Drama, Economics, English, Geography, History, Languages, Mathematics, Music, PE, Physics, Psychology, RS, Sociology.